Jumping off of last week's topic, I'm still caught up in play fever. Here are some awesome play kitchens that I found along the way.  I'm going to skip the most obvious examples and I'm going to try to stay away from large plastic sets as they are pretty common. Instead I'm going to try to highlight some ingenious and interesting finds that aren't typical but are well worth your attention.
This adorable little retro kitchen set is aptly names "Blue Retro Kitchen and Refrigerator," and it's made by KidKraft, a premier wooden toy company. This set costs $189.99 on their
website
. Obviously, I love that fact that these pieces are wooden and thus a bit more durable and aesthetically pleasing than a plastic set. They also come with moveable knobs, doors that open and close on real hinges, and plastic hardware that can be removed and easily cleaned. Although this product does require some minor labor to put together, KidKraft kitchens come with excellent guides and all the tools you'll need. In the past I've purchased a KidKraft kitchen for a library where I worked and my sister also bought one for her kids. They both held-up well with repeated use and play. What I like about this particular set is the potential for your child to grow with the set – there's no upper part to bonk heads or obstruct views as your child gains those precious inches. Also, with two separate pieces, you can rearrange the set-up for nearly any space.
This next kitchen,
NYBAKAD
, is from IKEA and looks pretty nondescript. The fun part comes in when you realize that the sliding black cabinet door is actually a chalkboard. This means you or your kiddos can scribble drawings of baking pies or menus of the day for your little one to play with. I love the dual-role of this imaginative and simple playset. Not difficult to make this one on your own with a few pieces of plywood or an old bedsite stand, but also not going to break the bank at $30.
Ok, this may only look like a wooden box with two doors – until you look closer and see the little ice-maker. So totally cute! Inside the upper door, you'll find an ice-box where the wooden cubes sit until you press the button on the exterior to release the cubes into the opening below. Nothing is more exciting for a little one than pretending to be just like a grown-up and this simple little mechanism helps them do just that. This fridge is from Hape, one of my favorite children's toy companies, and it runs around $120.
This next playset is a miniature set from Calico Critters, called the "Kozy Kitchen Set". My daughter has this and she loves it! It's a little expensive at $30, but you're paying for the quality, I assure you. Each piece is well-crafted. We had a lot of fun unboxing this set, due to the surprising amount of teeny tiny food items and cookware that comes with the set. When I first bought this for my daughter, she had just turned four. I was still wary about the little pieces so I tucked the smallest items away until she was older. She had no problem playing with the furniture pieces and got excited about the playset all over again when I pulled out the teeny tiny food a year later.
Of course, I can't leave Melissa & Doug out of this list. They make such superb children's play-sets. I mean, these people really get it. They understand how kids like to play and they are always upping the ante by creating more interactive toys for kids to enjoy. This simple kitchen playset may not look like much upon first glance, but I ask you consider its applications. This is the perfect toy kitchen for cramped toy-rooms, small apartments, or simply for fun on the go. This set costs $50 but is very well-made and comes with 17 individual pieces.
This pizza kitchen is unique in that it arrives in a teeny wittle box – that's because this toy is a paper kraft toy! Not only will you enjoy putting this set together with your child, but you can also spend hours playing pizza shop, taking turns making and ordering pizzas. I really like the interactive nature of this toy, available from Krooom for $30.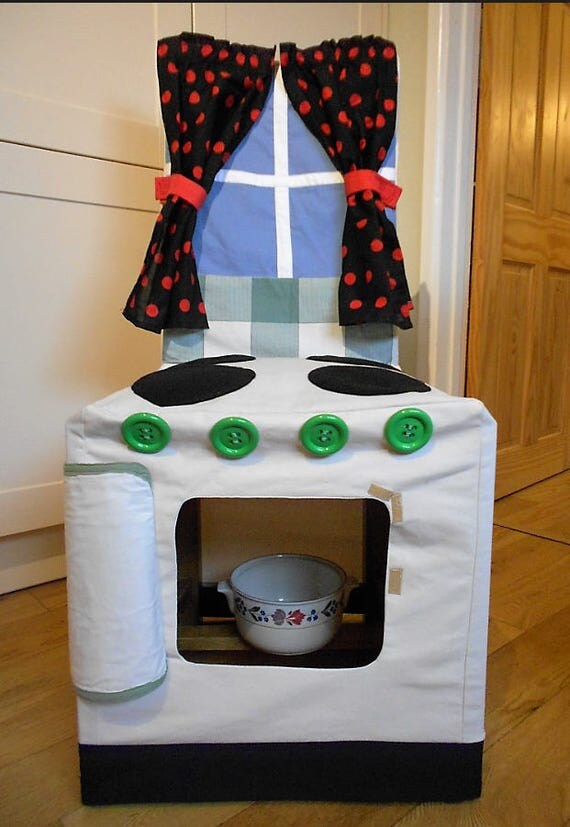 This next play kitchen is pretty ingenious – especially for children without a lot of space. This play kitchen is actually a chair cover that can be pulled out or tucked away depending on space needs. I found many examples of this type of play kitchen on etsy and pinterest but the winning photo comes from the
Elsa Emporium
shop on etsy, for $98.
Another great toy combo – Play-Doh and play food! This playset, Meal Makin', allows you to really play chef because you get to physically construct all sorts of play meals. Of course, Play-Doh is the master of this concept and they have several off-shoots of this concept – from icecream cones to pizza sets. Meal Makin' runs around $30.