This week's theme is…play food!
I am so glad I have a kid (and thereby an excuse) to pore over all the play food pics I can stand! I don't know why – maybe some sort of weird foreshadowing – but I've always loved play food. As a kid, and yup, even as an adult. When I was Head of Youth Services at Clearview Library, I enjoyed redesigning the play area with a mini kitchen complete with pots and pans and play food!
Yet again this week, I found myself mysteriously browsing all the nifty little play food options on amazon so I thought that would make the perfect focus for this week's finds.
In terms of responsible adulting, I need to add that play food is a GREAT toy! Play food encourages the imagination which builds problem-solving skills and creativity – things necessary to a happy life, if you ask me. You can use play food to talk – I mean, play – with your child and teach them about healthy eating and good choices.
One of my favorites things – sushi! My little girl is also crazy about sushi, once having declared that she was "going to destroy" her plateful when it arrived. This toy is ingenious in several ways – it allows solo-play and group-play, for starters, and it also encourages pattern-recognition and repetition. Believe it or not, working with patterns is crucial to building the thinking required of a young child when they learn to read. You can find this awesome toy from Melissa & Doug for around $35-50. Melissa & Doug toys are always high quality and they have a terrific range of food toys – each of which I would recommend.
This toy, from Learning Resources, is a fun toy with an educational side. You can work on numbers, colors, even patterns with this set of 10 food cans. This toy is also appropriate for the little guys who enjoy filling and dumping containers. This product ranges from $30-$45. I have purchased this product for a library I once worked at and we used it for both storytimes and literacy activities.
This balance game is so cute! This is another toy that I've purchased for use in libraries. It works with nearly all ages of children. Babies find the cake patterns interesting to look at and the little wooden pieces are easy to hold. Toddlers and preschoolers can practice hand-eye coordination and balance, Kindergarteners can play bakery and make various stacks of cakes. This is from Alex Toys and costs only $20!
Yet another toy I've purchased for use at a public library, this sandwich set comes from Green Toys. This toy is made of recycled plastic and packed in recycled cardboard. It contains a pair of buns and a variety of sandwich fillings to use such as red peppers, pickles, meats, cheeses, lettuce, and tomatoes. The toy also includes a pad of sandwich shop order cards to encourage group play. Even if your child can't read, this toy builds reading motivation as they pretend to read the cards and play along. This sandwich set costs $20. Green Toys also has a Pizza version which is just as fun.
Now this next one may seem pretty simple but it's one of many in a product line that is another superior brand, HABA, from Germany. I love Hape's products because they show a real understanding of kids. The reason this toy is so neat is because kids love pretending to be adults more than anything. A thing as simple as a tin of wooden tea bags can add to any pretend game in a simple and understated way. Tea parties are a time-honored children's game but usually with just the pots and cups. Now you can add a level of realism and motor skills for more fun! This tea tin runs around $15.
I have always loved this toy, if only for the colors! It's obvious that this toy encourages healthful eating. It includes a mixture of wooden and felt vegetables to add to a salad bowl for tossing. This toy makes salad fun and interesting and builds a child's interest in beautiful greens and veggies from a young age. This toy is made by Hape, yet another awesome German toy company, and costs $30.
This Little Woodzeez garden playset. They tend to be on the expensive side ($25) and are only appropriate for older children due to all the tiny pieces. But, they are well-constructed and a lot of fun. I purchased this mini garden set for my daughter this past Christmas. She loves it! Being able to pick the tiny vegetables is a lot of fun. If you have a dollhouse or mini kitchen, these vegetables can be "cooked" and played with even more!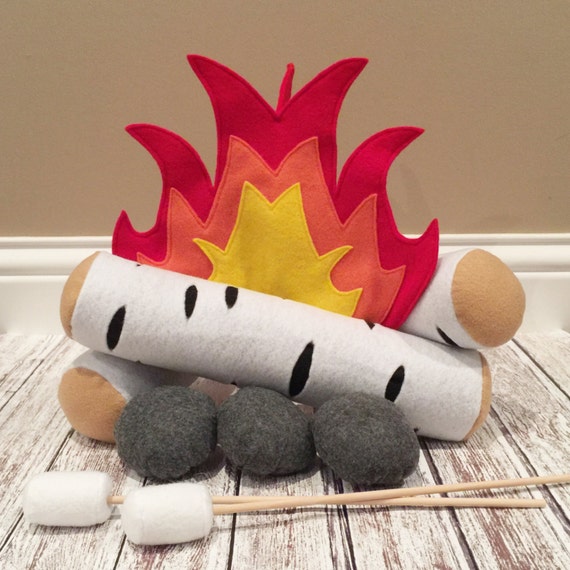 This last food toy is from TwoTinySunshines' Etsy Store for $65. The great thing about this toy is obvious – it encourages role-play and make-believe – two of the most powerful items in the playtime arsenal. What isn't pictured above, each marshmallow has an add-on "toast" patch of light brown felt to indicate that the marshmallows have been toasted. Other sets bu the same seller include felt smore supplies.
There were so many options to choose from for this Funky Finds post that I had a really hard time keeping it concise. I'm sure I'll be posting more play food in the future.
Save