Because we are getting ready to head out on part two of our major adventure – overlanding the south of Chile, this week's finds all feature cool travel journals and maps.
This fun interactive travelogue is one of a line of similar products from Scratch. It'll cost you around $12 on amazon and you don't have to stop there. They also make really neato wall charts in a variety of styles. Another favorite product is the Adventure Journal.
Another fun travel project – a DIY globe that you can color and write-on. Pinpoint your desired destinations or trace your route across the world. This fun globe is from Movely and comes in a variety of colors and styles. A quick look on amazon has this priced at $22.
This next item is so cool that I've given it as a gift to friends (and my mom). It's got all sorts of interesting journaling pages and challenges that help you notice and appreciate the world around you. It's loads of fun and I'm not exaggerating at all. A paperback copy costs about $12 and Keri Smith has several other similar workbooks to enjoy after you finish this one!
Another fun book. Although not interactive, this book will keep you entertained for hours. And if you're a writer like me, you will be inspired for hundreds of stories. This well-received book grew from a hugely popular website of the same name. Atlas Obscura can be found on amazon for around $24.
This book is yet another personal favorite. One of the best illustrated atlases I've ever seen. Geared towards children but certainly adults will enjoy poring over the intricate maps as well. I actually cut a copy of the Chilean map from an abused copy of the book I came across. The map now hangs proudly over my daughter's bed. I've spent quite a bit of time looking at atlases and map books on South America and I can honestly say this one does Chile the best. Most atlases of South America simply show Chile as a narrow country running alongside the Andes mountains, as if the mountains were the only thing of note about the country. No SO! And this book really does the Chilean culture and geography justice! I found this book on amazon for $24. It is an oversized map book so that's probably a good deal.
I love this idea so much that I wish I had come up with it. This nifty set features inspiration cards for observing and interacting with the world where you are. These fun prompts will certainly take you out of your comfort zone and into the wondrous world of discovery. This box of 75 cards costs around $12, and interestingly enough, can also be purchased in digital copy. There is another set that I also think is pretty neat – Anywhere Art Guide.
This next item is one I want to heartily promote, the United States Passport to Your National Parks. There is no better way to learn about our country and its history than visiting a national park. Keeping track of your visits is made easy and fun with this passport and guide. Every time you visit a new park, stop by the tourist center or welcome center and track down the stamping station to add a new stamp to your booklet.The booklet can be purchased at most national park visitor centers or online for around $10.
Also, if you have children, know that most national parks have Junior Ranger programs with a little booklet of activities and a backpack of books and exploration equipment that can be borrowed for free. We get a junior ranger kit everytime we visit a new national park. The entire family has fun completing the activities and learning about the park's history and at the end of the trip, our little one goes home with a junior ranger badge that she's super proud of – I can't recommend the National Parks enough.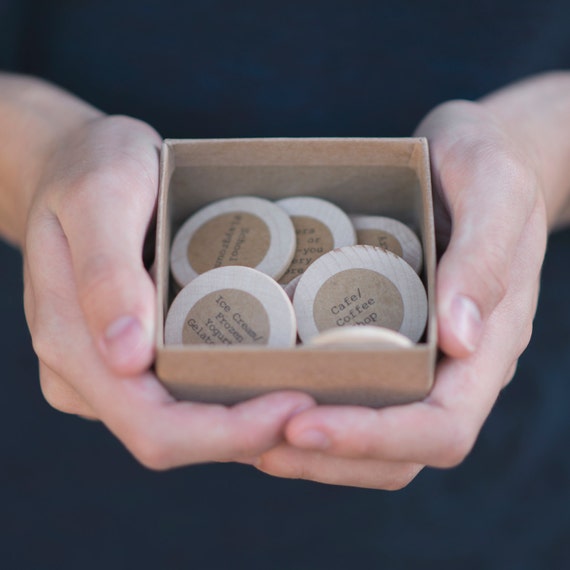 This last fun item is from The Idea Box Kids Etsy store. Simple but creative, this little box contains a scavenger hunt of sorts, with ideas for places to seek and explore printed on little wooden discs. You can find this box or other similar adventure boxes for around $10.99.
Save